Principle of operation:
Taking the latest direct centrifugal atomization technology, through wet mist of the spray spread to the air rapidly, the evaporation takes away the heat from the air quickly, thus reduce the environment temperature, within the range of the spraying area,could be cooler 6 ~ 8 ° C.
Functions:
Cooling, humidity, dedusting, refrigeration, sterilization, epidemic prevention, antistatic and more.
Applications:
Applications: farms, warehouse, and other common small places.
Introduction of porduct: The specialty of misting air blower are large spray capacity,fast humidification and cooling down, it's atomization cooling theory is under the action of centrifugal force rotating disc and spray particles equipment , achieving 5 micron droplet,through the fan blow out and vaporization, in the process of that, absorb the heat,bring the temperature down, improve the air relative humidity,so the water mist will not fall on the ground. And it has long range, if we use with energy saving axial flow fan, increase indoor wind rate, improve the speed of air flowing, the effect of use could be more improved.

New great points:
Atomization one-piece design, light and portable.
No need nozzles,exclusive direct atomization PPAT technology .
The first saling to the market, the power consumption just only 90 w.
Wind capacity energy efficiency upgrade 10%.
ABS Recycling case with hanger .
Floor standing type and anticorrosion on surface.
International standard anticreeping switch, safety in use.
The mist particle size 8~12um.
Noise is 45 decibels.
Pedestal type can be automatically adding limited water.
Water tank with automatic watering cycle,no need drainage,save more water.
International standards for all copper motor,can be last over 6 years.

Power supply:220V/50Hz
Power: 90W/2
Electricity:0.41A
Revolving speed:1450r/Min
Airflow rate:4650M3/H
Humidify capacity:0-6.5L/H(adjustable)
Acreage:in 50M ²
Feature:Fast humidification,not blocking easily
Through the water control valve adjust the mist
Quality guarantee for one year according to the Chinese "Three packs of policy".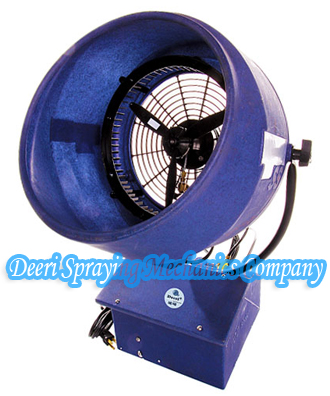 Brand name:Deeri
Colour: As the pictures
Material: Stainless steel
Package:Wooden case
Port:Guangzhou
Payment terms: Negotiable
Place of origin:Guangzhou,China.