Working principle
Working principle of high pressure spray cannon is using high voltage equipment make the strong pressure of work after the tap water be professional purified, through the special nozzle about 50 ~ 150 microns of water mist particles, they gatherd and float in the air into a white cloud of fog but does not produce water droplets, the particles and small surface tension is zero basically ,can rapid adsorb dust particles and widespread diffusion though a high speed blower ,it's quite effective for large open dusty places.
If it's spray deodorant,it can make the reaction of the medicine and the smell molecules,effective remove them. Spray cannon can evaporate the heat from the air, lower the temperature and increase moisture.
Coverage
Dust control: open-air material yard, coal cutting area, logistics industrial park, open-pit mining, open-pit blasting dust, sealed discharge areas, truck unload ports, large loading dusty discharging places, coastal port shipment, transshipment of coal and ore, demolition building, powder transportation,etc.
Moisture and cool down: airports, highways, stations, docks, public places, sports stadiums or others need to lower the temperature and disinfection.
Disease prevention and treatment: armed forces places, training venues, flood disaster areas, waste plants, zoos, landfills, health and epidemic prevention,afforestation and after natural disasters large area of sterilization, disinfection, deodorization, epidemic prevention and control plant diseases and insects, etc.

◆Compact structure, reasonable layout, great workmanship, good operating performance, suitable for a variety of trailers.
◆Long distance, large coverage, small fog particles, will into wet mist when it contacts with the dust,can quickly inhibit it.
◆High working efficiency, fast spray speed, strong penetrating power to dust and adhesion force of drops, can effectively save water and reduce environmental pollution.
◆Compatible manual/remote control, quick start, safety in use, flexible, convenient and cost-effective.
◆Wide applicable scope, electric/remote control compatible, micro-motor level control, fast electric control pitching angle.
◆Installation is flexible, can be installed on concrete or steel structures, the portable trailers, can also be installed on the road sprinklers and more.

Model

Control mode

Working pressure

Angle of elevation

Angle of rotation

Atomized particle size

Wind supplying distance

Mist supplying distance

Standard power

W25T

Manual/remote control

1.0-100Bar

35°

Default 90°
Optional 0-270°

50-150um

25m

20m

2.2kw

W30T

30m

25m

5.5kw

W40T

40m

35m

11kw

W60T

60m

55m

22kw

W80T

80m

73m

37kw

W100T

100m

90m

45kw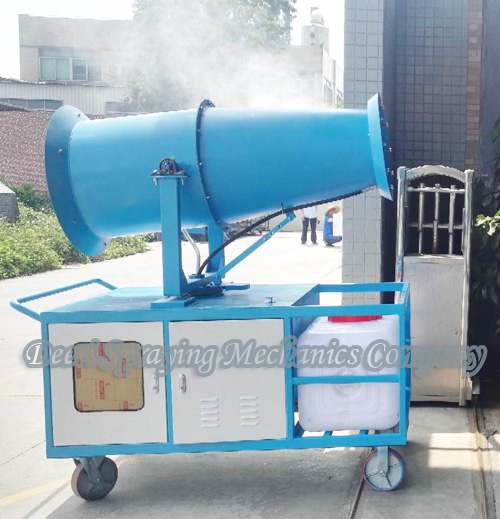 This iterm of product could be customized,please contact us for more informations.
Brand name:Deeri
Colour: As the pictures
Material: Stainless steel
Package:Wooden case
Port:Guangzhou,China
Payment terms: Negotiable
Place of origin:Guangzhou,China.