Deeri ultrasonic spray humidifier/spray humidifying device uses electronic overclocking oscillation frequency (1.7 MHz), makes the water leaving the surface to 1 to 5 natural micro mist, no need to heat it or other chemical products to raise the air relative humidity, after the heat-absorbing action will be achieved the purpose of cooling.
Conditions of using:
◆Normal working condition environment temperature: 0 to 40°C.
◆Clean neutral tap water.
Specialties:
◆、Deeri ultrasonic Industrial humidifier/spray humidifying equipment uses integrated ultrasound mechanical movement, spray chip life up to 5000 hours, the chip is replaceable, maintenance is simple and convenient.
◆、Ultrasonic industrial humidification equipment has the humidifying particles extremely subtle, mist particles only 1-5 microns in diameter, automatic control, real-time display the current environment humidity.
◆、Ultrasonic humidifier industrial equipment is equipped with high-performance automatic water solenoid valve, overfall gap and water exit.Convenient, safe and reliable to use.
◆、Ultrasonic humidifying equipment with water protection device, can effectively guarantee the atomization movement and stop working when water level is too low,also can control the water be fill in,without other equipments,saving a lot of cost.
◆、Ultrasonic industrial humidification equipment humidifying equably, the maximum relative humidity can be as high as 99%, quite big strength.
the mist particles is small and eveness, can rapidly meet the requirements of relative humidity.
◆、Spray humidification equipment with high efficiency rate above 95%, flexible control, convenient, humidity automatic control, after years of trial and error and the actual detection, now is compact structure, reasonable collocation, no noise, great liquid atomization effect.
◆、Ultrasonic industrial humidifier with humidity digital automatic control, control system equipped with imported humidity sensor, high control precision, fast reaction, after setting can work continuously, without labour working.

1, Using the integrated ultrasound mechanical movement inside.
2, Fine grain of the humidification, , mist particles only 1-5μm.
3, Automatic control, the current humidity display.
4, Filling in water automatically and also with water protection.
5, The chip can be changed, maintenance is simple and convenient.
6, Humidification is equably, the maximum relative humidity is as high as 99%.
7, High effective humidifying rate above 95%.
8, Wheels on the bottom, it's portable.

Models: DRCSB15L,
Humidification capacity: 15 kg/h,
power: 1500 w (220 v),
misting exit: 110 mm (3 pieces of PVC outlet pipe),
the machine size: 750 * 550 * 550 mm (including castor), weight: 66 kg,
acreage: 150-170 square metre (3 meters high).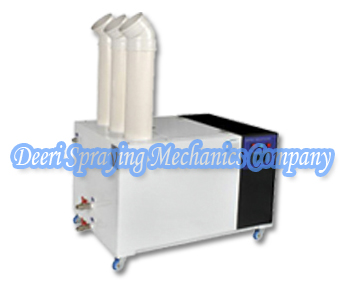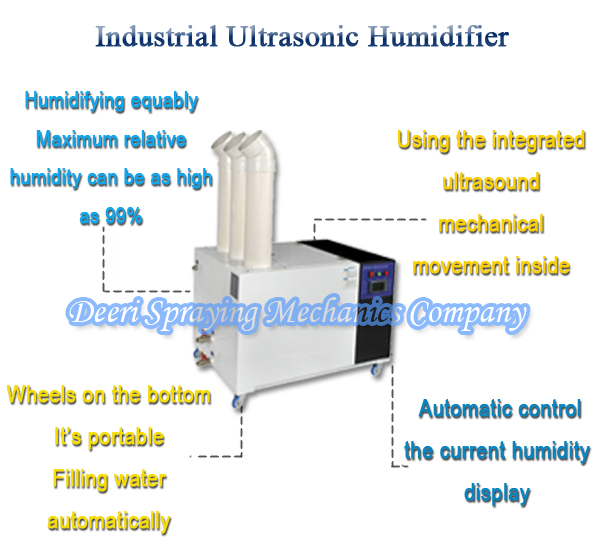 Brand name:Deeri
Colour: As the pictures
Material: Stainless steel
Package:Carton box
Port:Guangzhou,China
Payment terms: Negotiable
Place of origin:Guangzhou,China.